SPAWAR - Autonomous Military Robots
A few years ago I toured the U.S. Navy's Space and Naval Warfare Systems Center Robotics Lab in San Diego. I shot photos and wrote a piece for Wired about my experience there. What follows are some out-takes along with high-res versions of many of the shots in the piece. Autonomous military robots... what could go wrong?
SAN DIEGO -- The Navy's MDARS-E is an armed robot that can track anything that moves. Told that I was the target, the unmanned vehicle trained its guns on me and ordered, "Stay where you are," in an intimidating robot voice. And yes, it was frightening. Perched atop a strip of cliffs lining a beautiful section of the Pacific Ocean, the Space and Naval Warfare System Command in San Diego develops semiautonomous armed robots for use in combat by the U.S. military. "We're not building Skynet" says Bart Everett, the technical director for robotics at SPAWAR. Though Everett assured me that the use of the robots' on-board weapons is under the strict control of their operators, the lab's bots can navigate and map complicated terrain, work cooperatively with soldiers and identify and confront hostile targets. Sure, they're no Johnny Five, but robots with guns are both creepy and fascinating.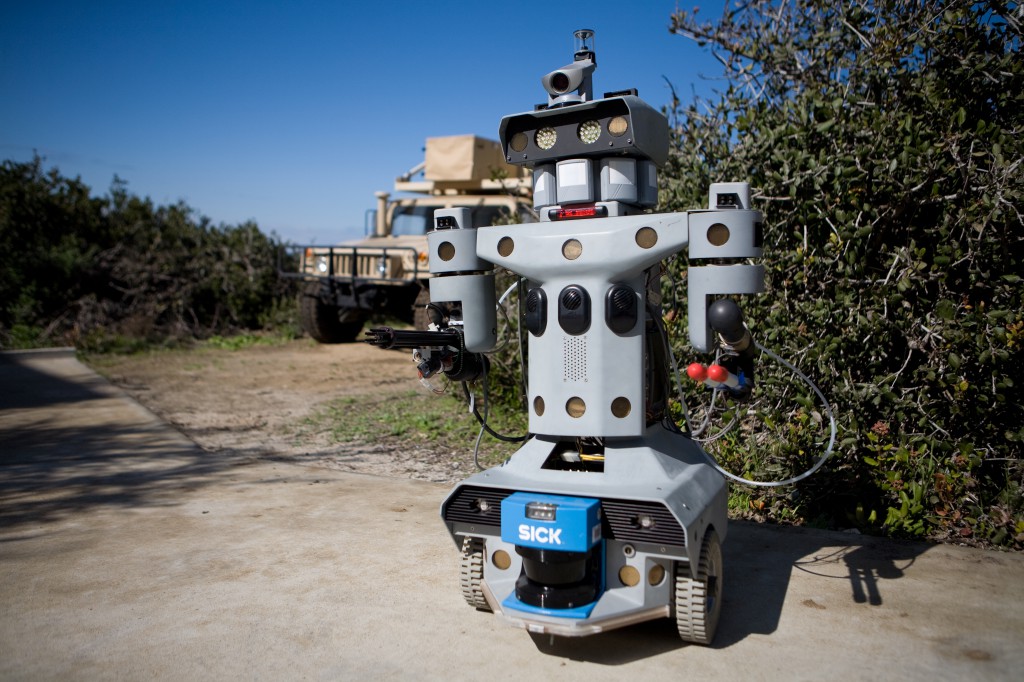 #### Robart 3E at SPAWAR
ROBART III is a prototype platform designed in-house at SPAWAR. If it weren't for the chain gun and missiles, he would be pretty cute. Once he's ready for battle he'll almost certainly don an evil-looking suit of armor. ROBART's sensor array consists of a multitude of cameras, SICK LIDAR (like radar, but with lasers), ultrasonic transducers (gold spots), passive IR (infrared radiation) detectors and more. The weapons are planned to work in unison with a special rifle that would automatically target where a soldier points his weapon.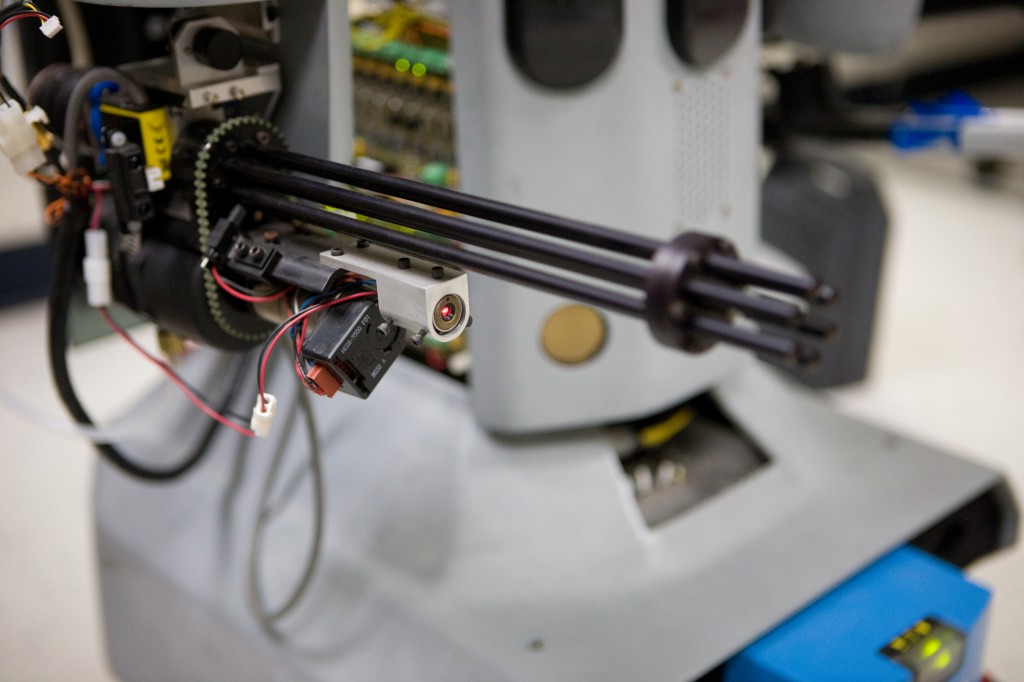 #### Laser Guided Chain Gun on Development Robot
One of ROBART III's weapon systems is this nonlethal pneumatic chain gun. It uses a combination of laser sighting and machine vision to lock in on its target and barrages it with a torrent of 3/16-inch-diameter projectiles. In tests, plastic pellets (like air-soft munitions) and steel darts were used.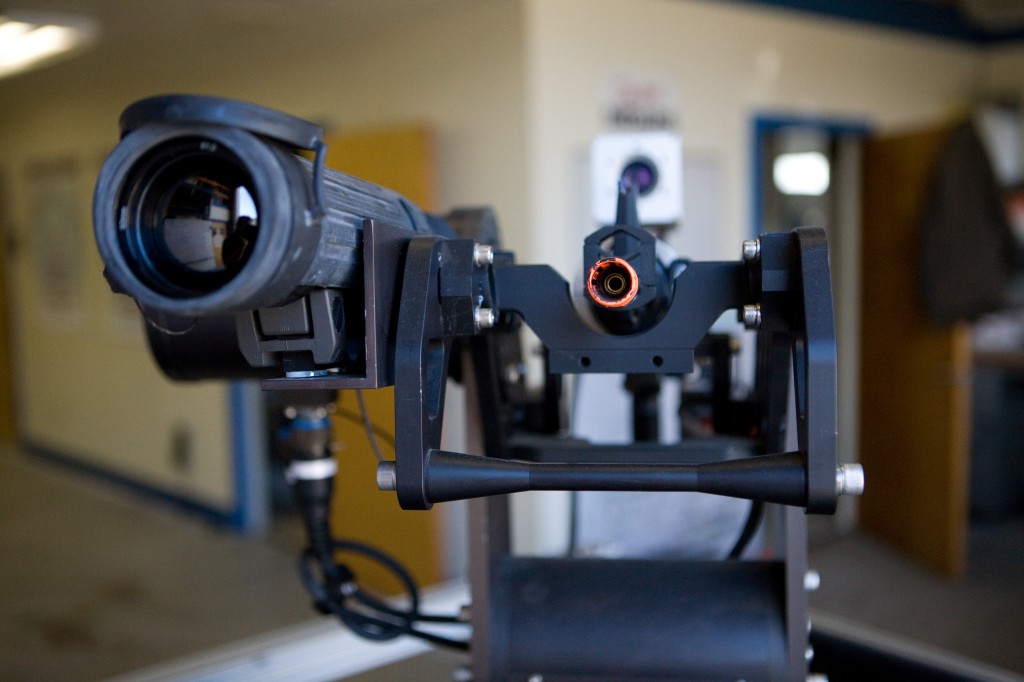 #### Autonomous Machine Gun
This prototype robotic weapon platform is designed to be buried underground for camouflaged deployment. When called to action, the robotic gun pops up and starts shooting. If you're the unlucky soul on the business end of this gun, it's likely curtains for you -- this robot is an extremely accurate shooter. A high-tech night-vision scope permits dead-on targeting even during moonless nights.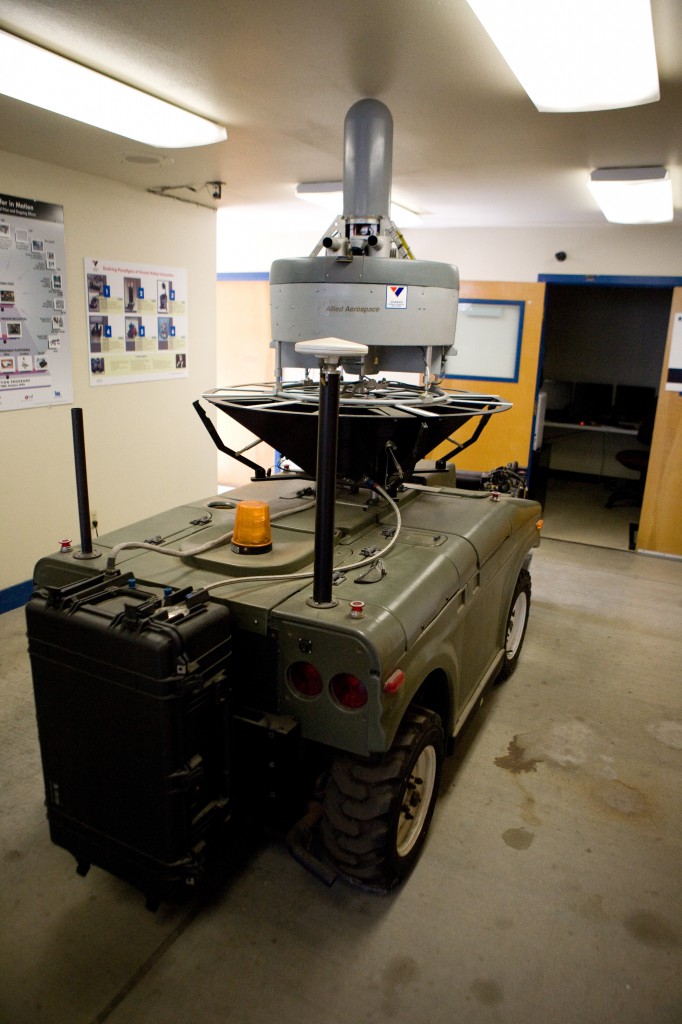 #### MDARS ISTAR Robot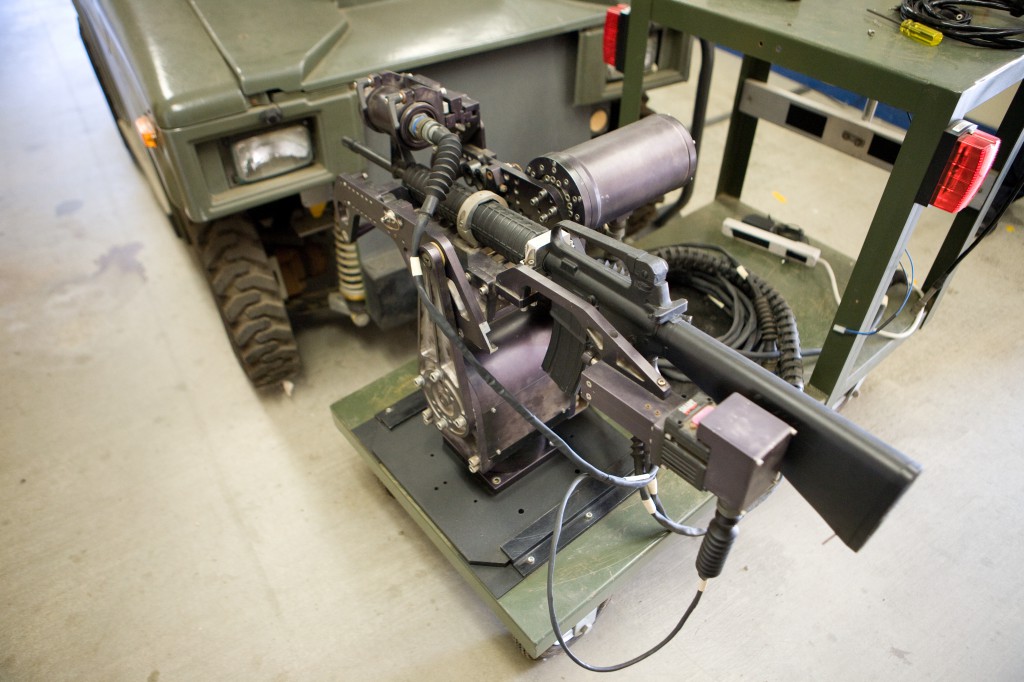 #### NROWS - Networked Remotely Operated Weapon System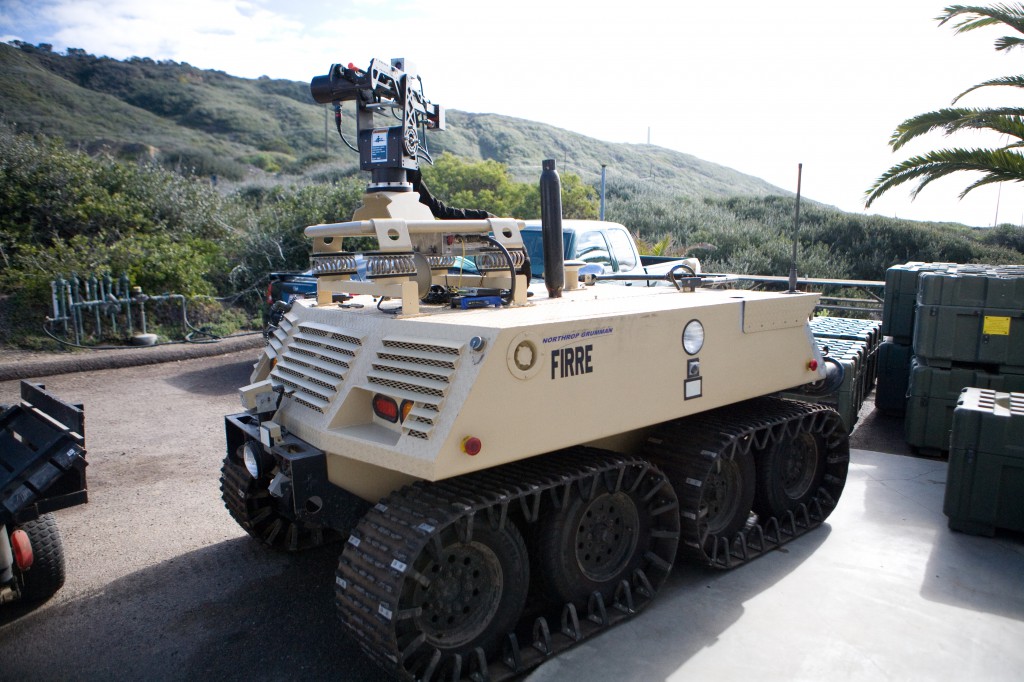 #### SPAWAR FIRRE Autonomous Fighting Vehicle
The FIRRE may look deadly and efficient, but it has a serious design flaw. Though the tank treads allow it to cross nearly any obstacle, the lack of suspension slowly destroys any type of robotic weapon system that is mounted to it. SPAWAR tried, unsuccessfully, to lessen the rough ride by mounting the robo-gun with shock-absorbing cabling. The FIRRE platform is no longer being considered for battlefield deployment.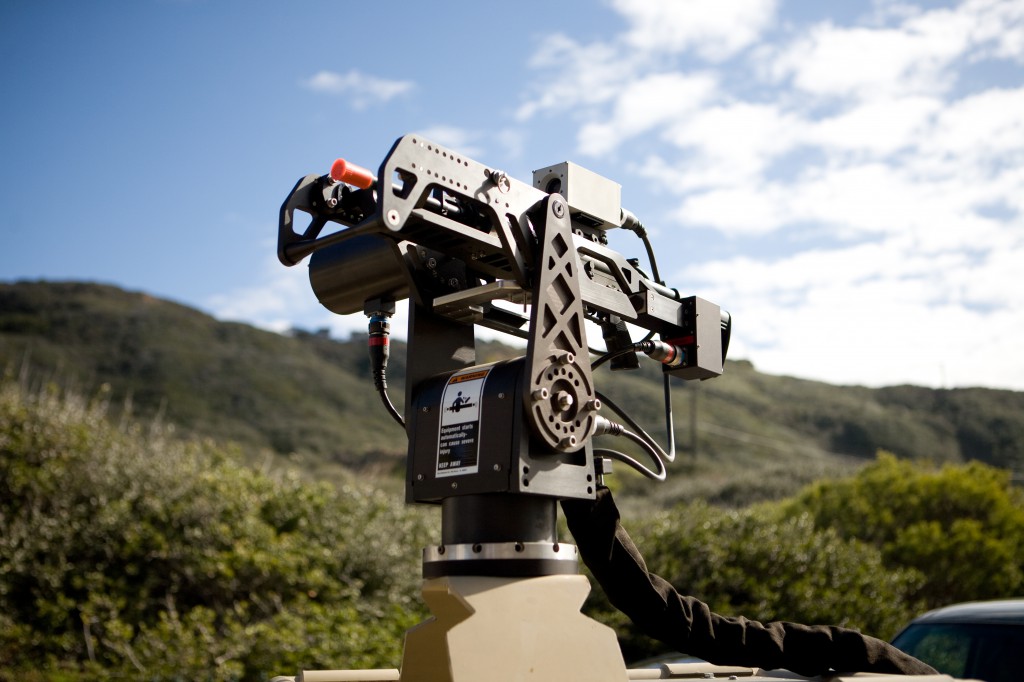 #### Robotic Machine Gun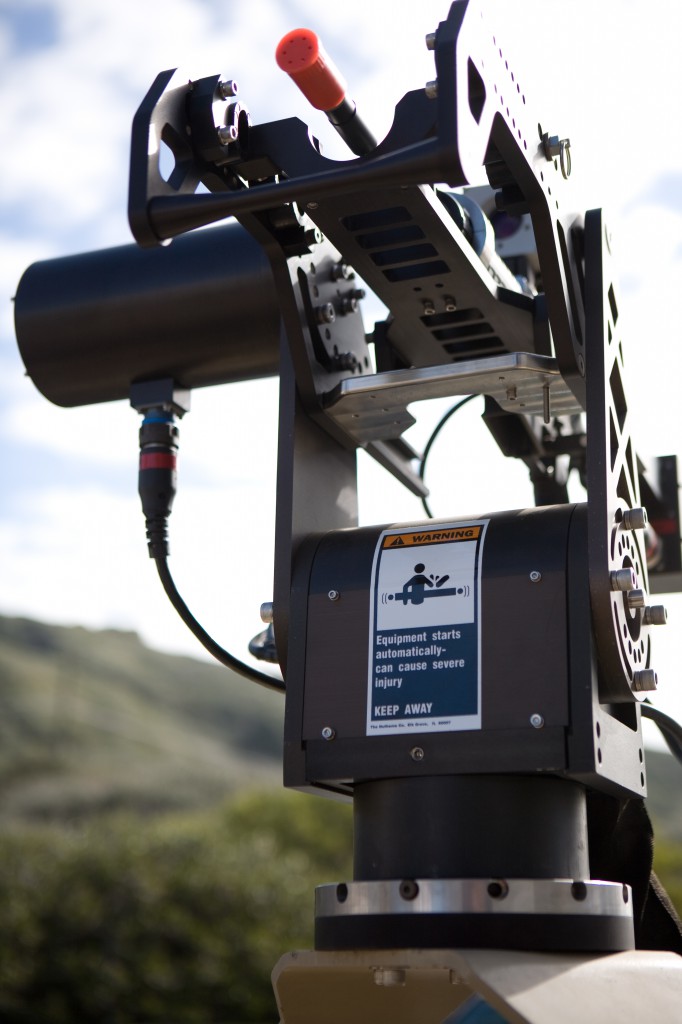 #### Robotic Machine Gun - Ironic Warning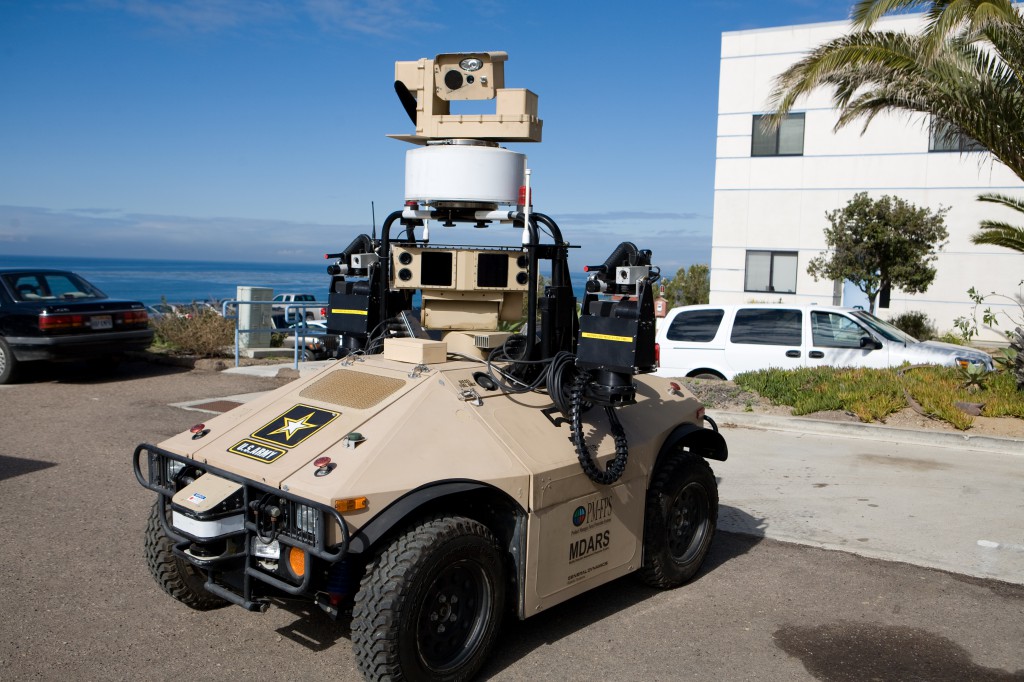 #### MDARS Autonomous Vehicle
The MDARS-E (Mobile Detection Assessment and Response System - Exterior) robot is an armed, unmanned vehicle that can navigate complicated environments autonomously. Decked out with a wide array of high-tech sensors and controlled by a sophisticated software system, the MDARS-E gives the recent Darpa (Defense Advanced Research Projects Agency) challenge participants a run for their money. More information about this vehicle follows on the next page.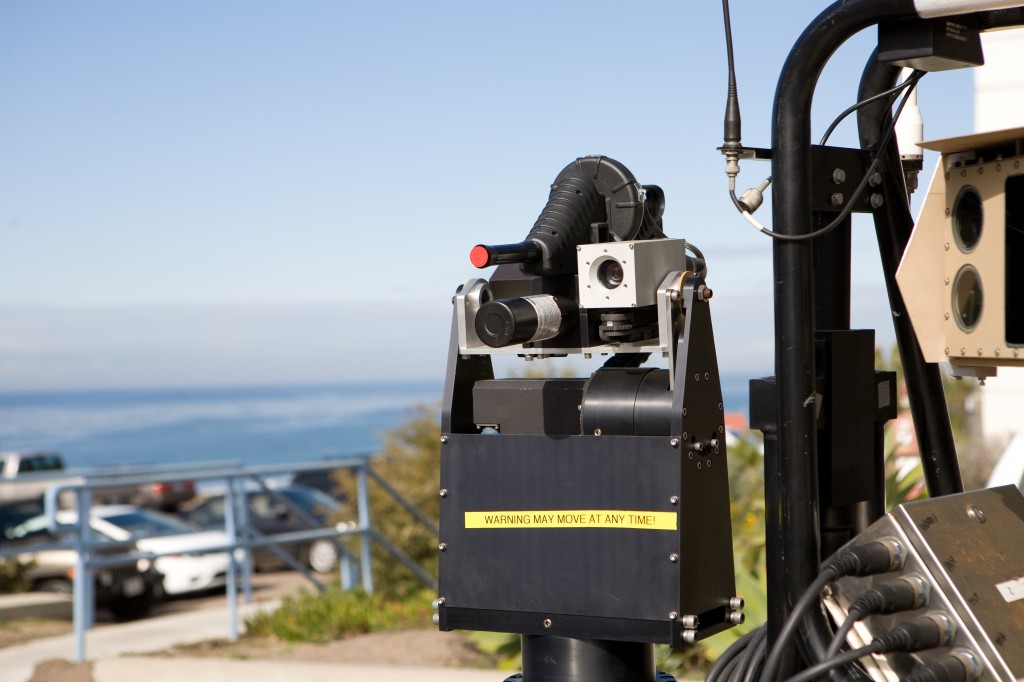 #### Autonomous Pepper Spray Paintball Gun
The MDARS-E is intended to drive around urban and rural environments looking for bad guys. As it's cruising, it reports its findings in real time to a guard station. Once the guard identifies an entity as an intruder, the MDARS-E trains its guns on the target and, in an ominous robotic voice, warns him to stay put. If given the command, the robot will first fire a warning shot at the target's feet, and then, if ignored, it will shoot the target.
The vehicle model that SPAWAR demonstrated for us was outfitted with nonlethal weapons. These pneumatic robotic guns fire munitions that are like paint balls with fins to increase distance and accuracy. Some of these pellets can mark targets or release pepper spray on contact.
The MDARS-E uses a stereoscopic robotic camera system for navigation as well as cameras mounted on the weapons for targeting. A LADAR system uses 24 beams to build an image of the surrounding terrain.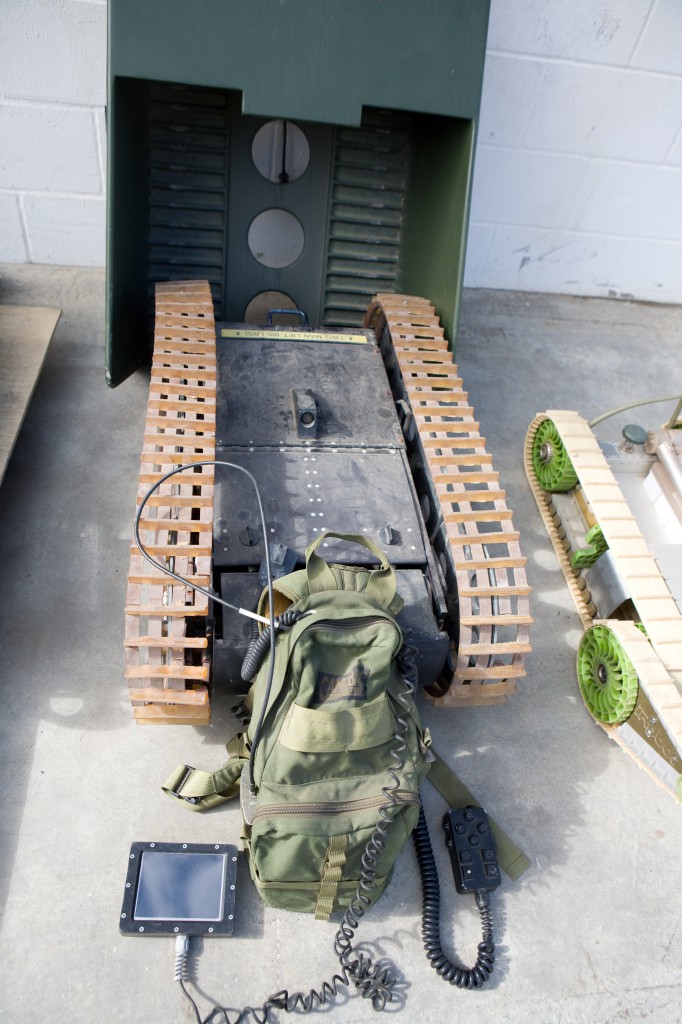 #### MPRS URBOT Field Robot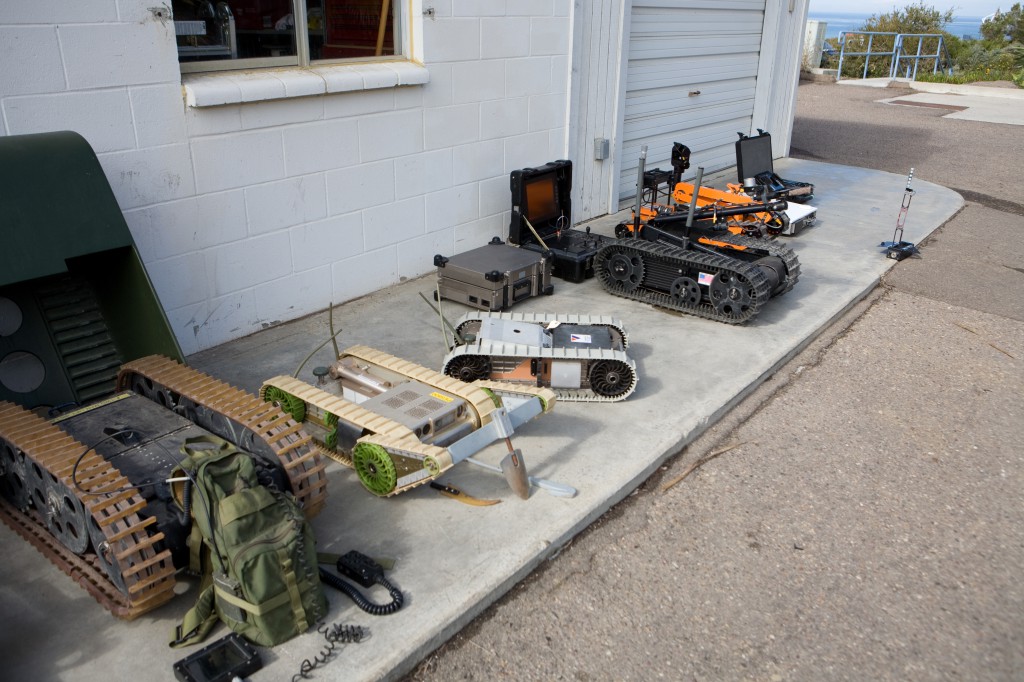 #### Collection of Military Robots at SPAWAR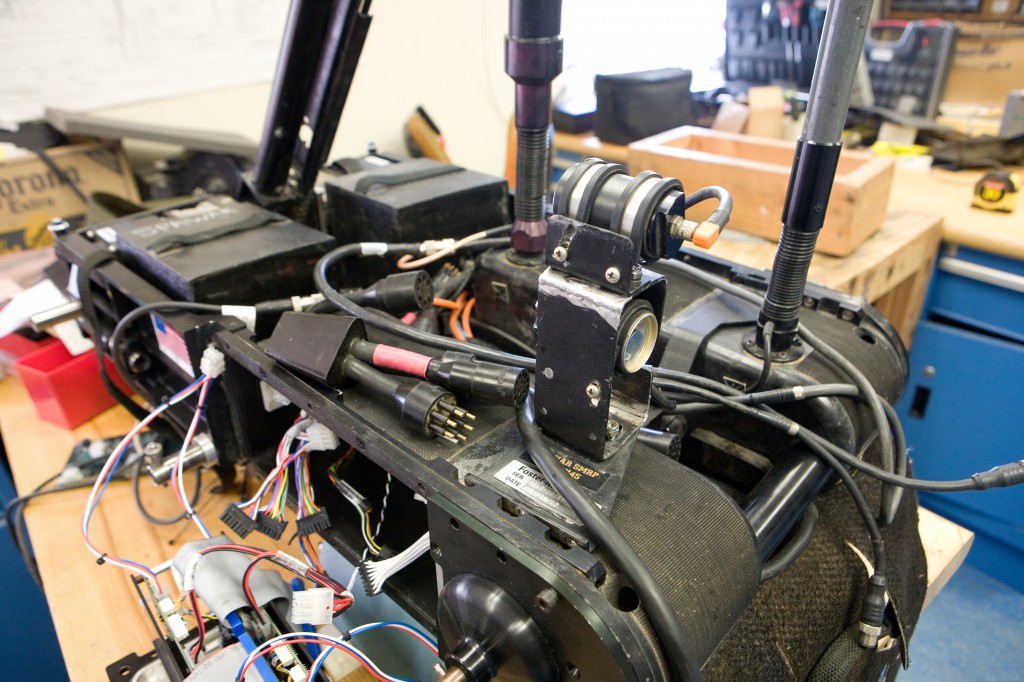 #### Foster-Miller Military Robot in for Repair
The robots in service in Iraq and Afghanistan often see as much dangerous action as their human counterparts. Frequently in the process of disarming IEDs, they end up getting blown apart and saving many lives in the process. These $100,000 robots aren't just tossed in the trash -- many of them are sent back to SPAWAR for repair.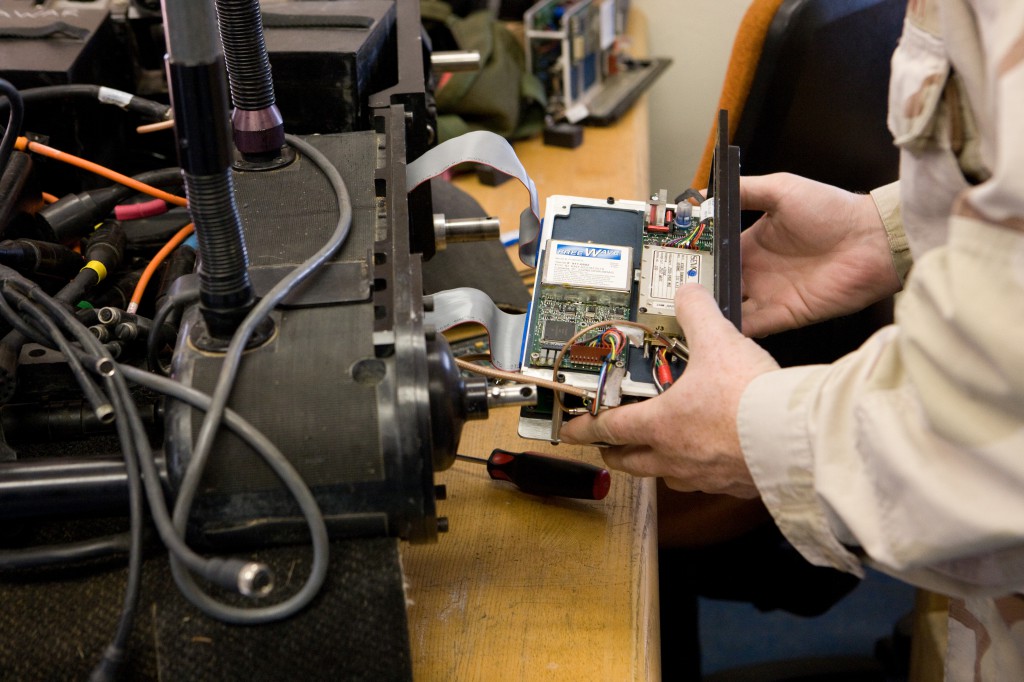 #### Technician Working on Foster-Miller Robot's RF Module
Fire Controlman 2nd Class Mendel Baker tests a communication module for a robot damaged in theater. Normally one working robot can be reassembled using parts salvaged from three broken bots.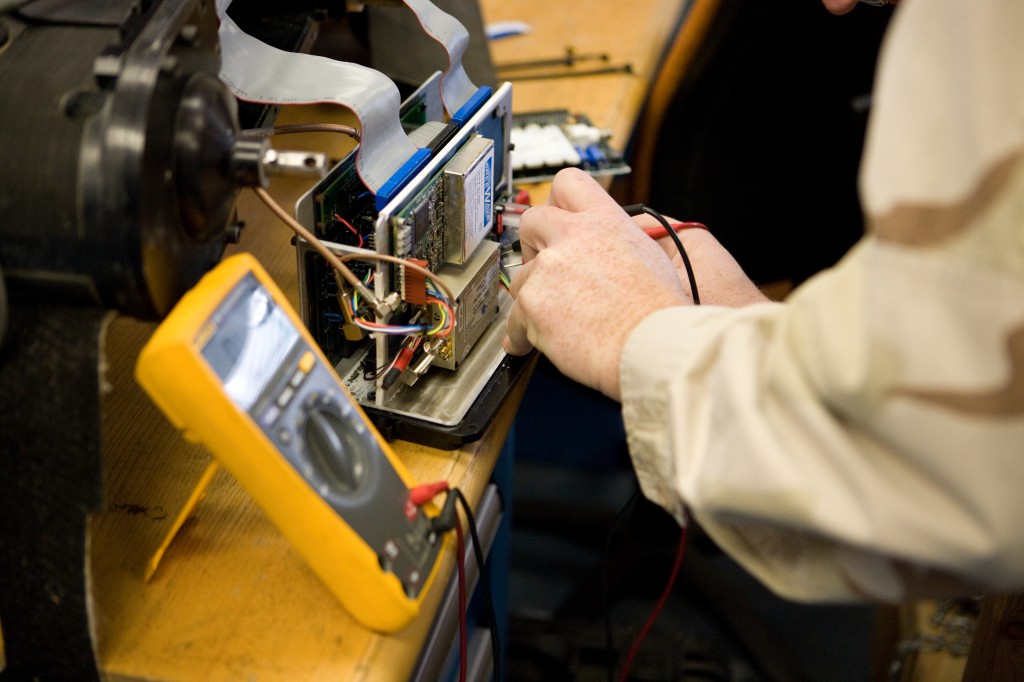 #### Technician Testing Foster-Miller Robot's RF Module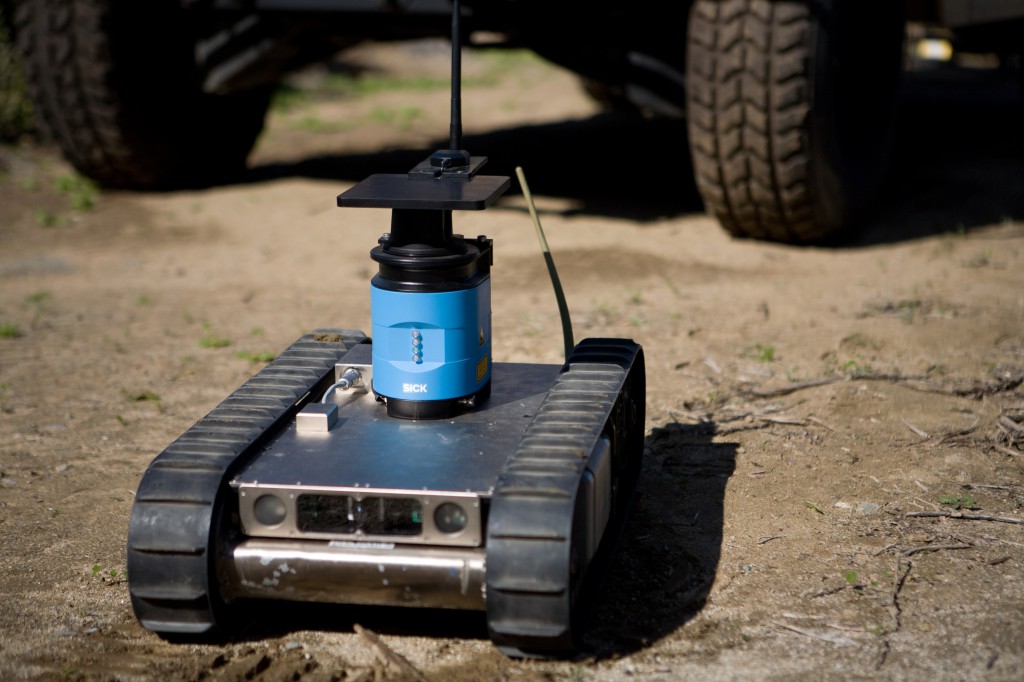 #### Robart at SPAWAR with SICK LIDAR
This little robot is outfitted with a LIDAR (light detection and ranging) scanner as well as a set of stereo cameras that allow it to autonomously navigate through confined spaces and make maps of its progress. The robot can also be given a command to follow a soldier through a building, which it will happily obey.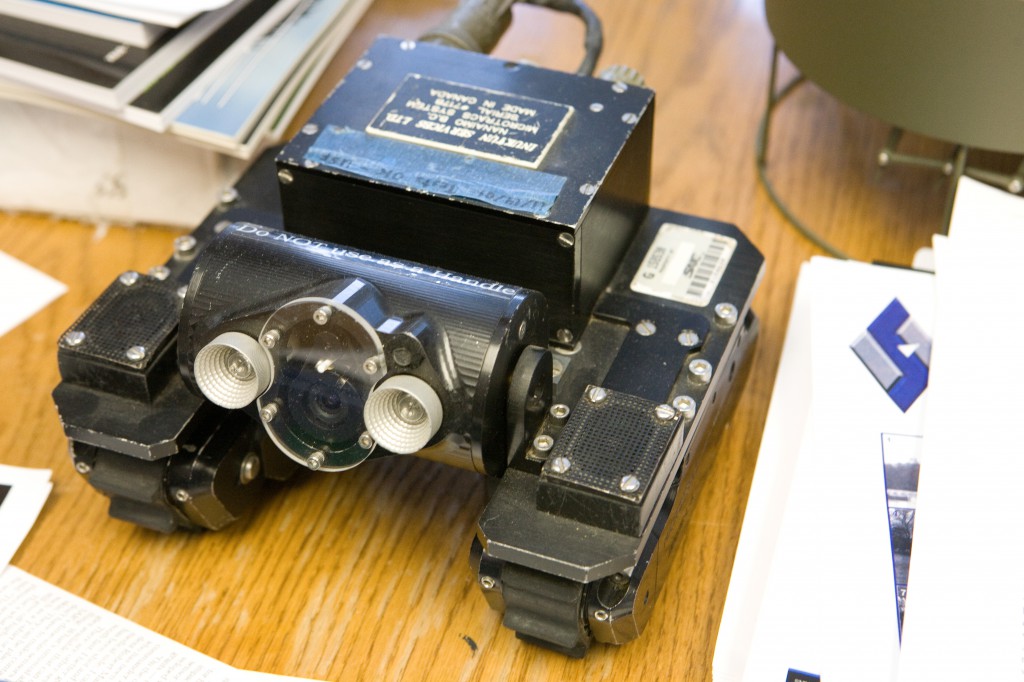 #### Inuktun Remote Controlled Camera Robot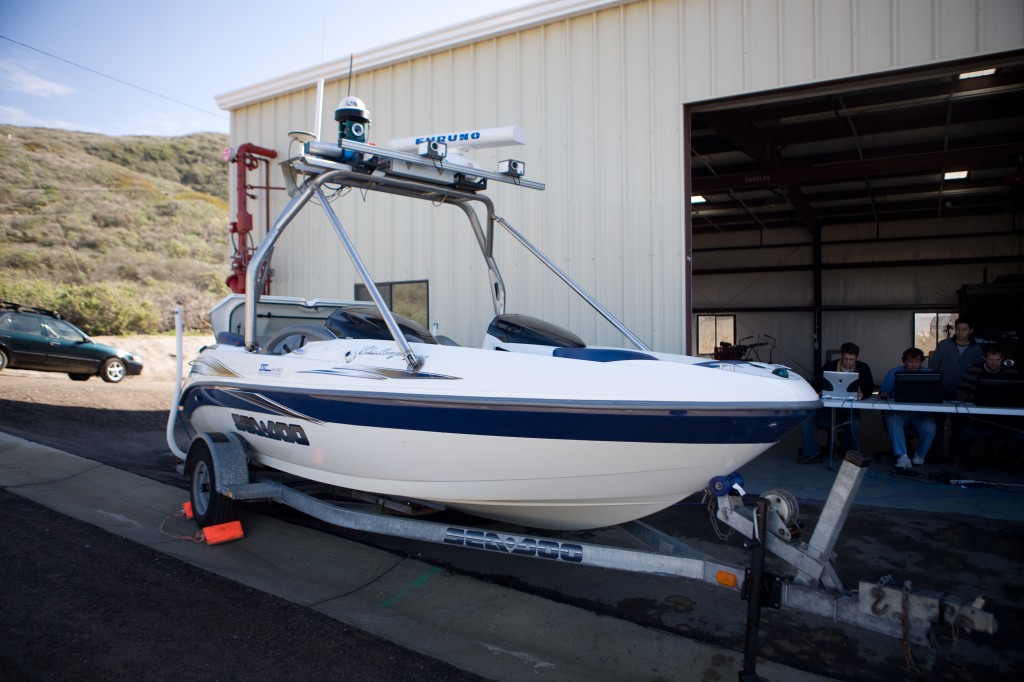 #### Unmanned Surface Vehicle at SPAWAR
This robotic boat navigates autonomously using a combination of nautical maps, radar, LADAR and cameras. The USV (Unmanned Surface Vehicle) is SPAWAR's latest project designed to fill a variety of nautical robotic needs. The sensor array is an impressive addition to the relatively stock Seadoo boat platform.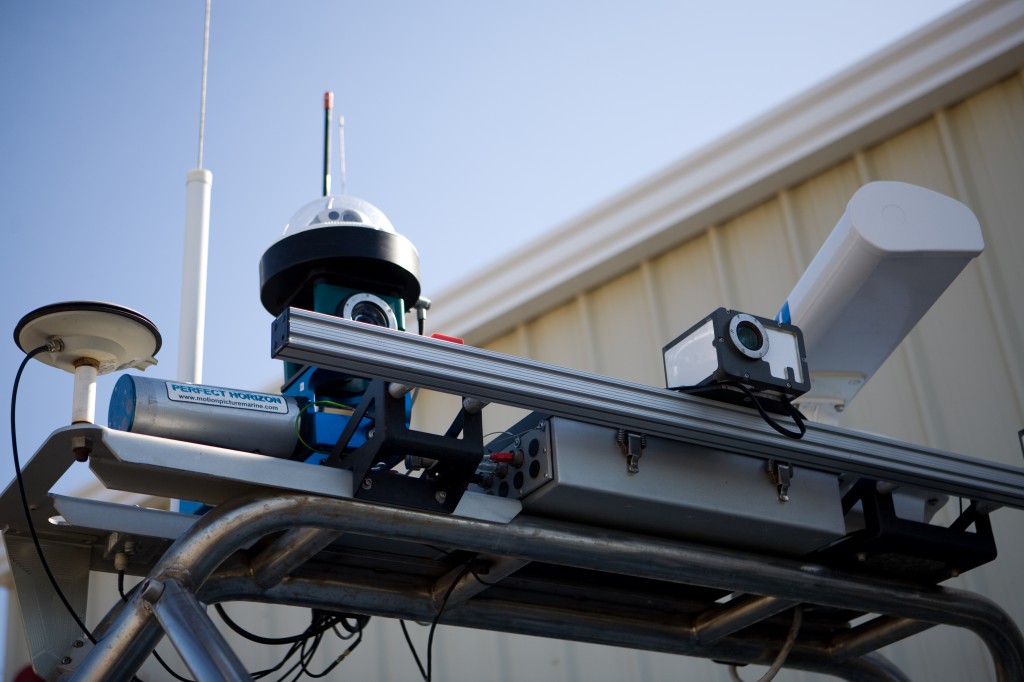 #### Cameras, Radar, GPS and Antennas on SPAWAR USV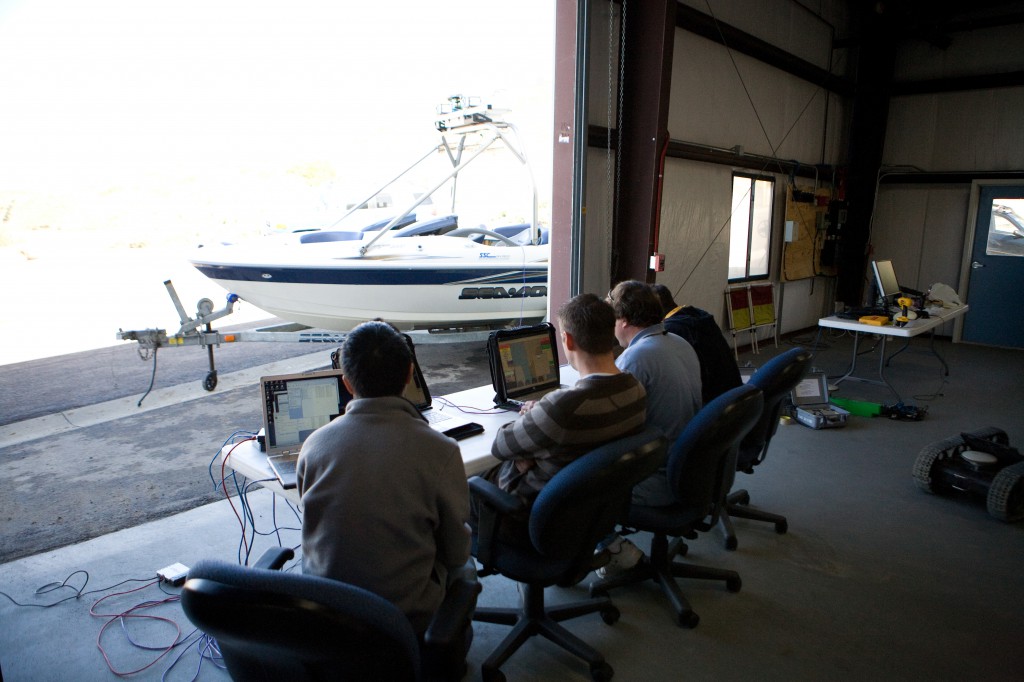 #### Technicians Working on USV at SPAWAR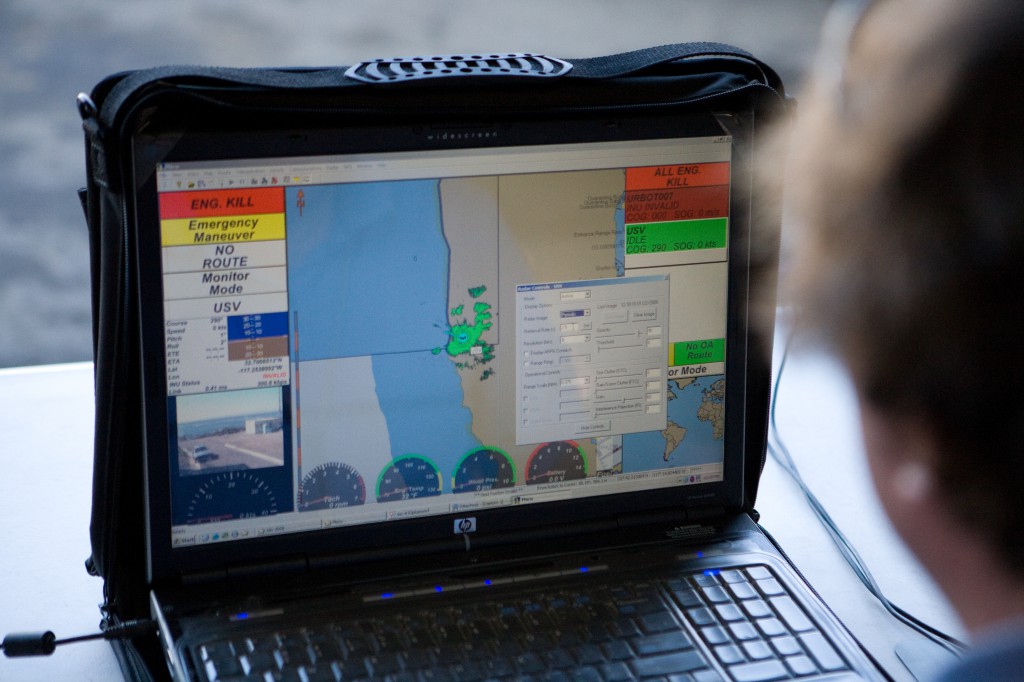 #### USV Control Panel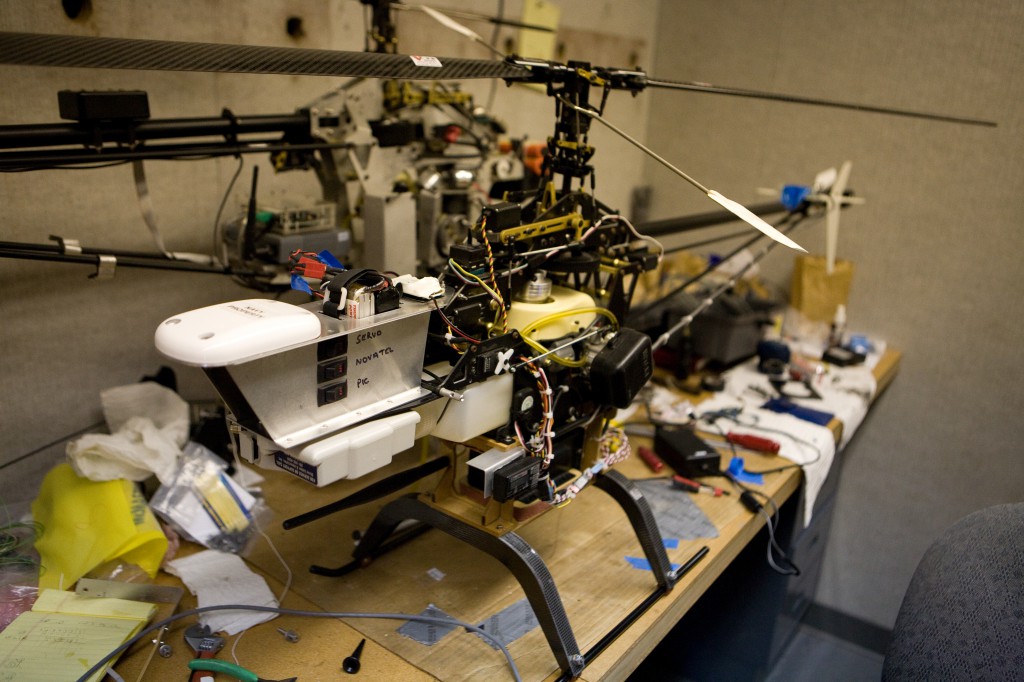 #### Autonomous Helicopter Platform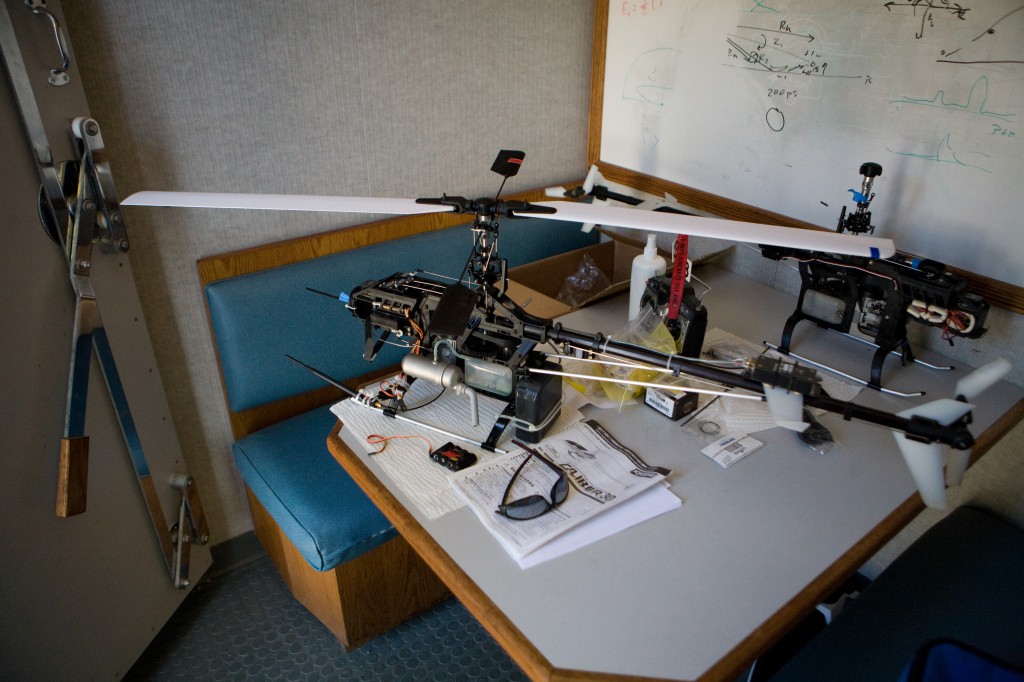 #### Autonomous Helicopter Platform at SPAWAR